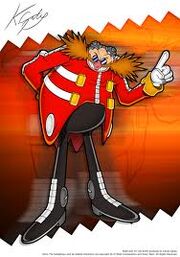 DAWKTOOR EGMAHN(ALSO KNOWN AS DAWKTOOR ROBUTTNICK) IS THE FATTEST MAN ALIVE AND HATE SOONICK. HE BUILDS ROBOTS THAT BUY HIM MC DONALDS SO HE CAN GET FATTER
ROBUTTNICK'S MEN BEN MACHANE
Edit
HE WILL HUNT YOU DOWN IF YOU DON'T BUY THIS GAME. IT COSTS OVER 9000 RUPIES.
EGG CRAVING
Edit
HE HAS A CRAVING ON EGGS AND HIS MINION MEETLE SOONICK TRIES TO GET RID OF IT, BUT HE SADLY FAILS BECAUSE HE SEECRETLEE LIEKZ EGGS.
Community content is available under
CC-BY-SA
unless otherwise noted.