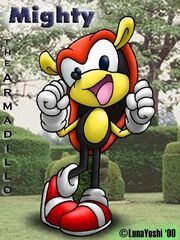 MIGHTEE IS A SOONICK CHARACTER THAT NO ONE REMEMBERS ANYMORE. HE WANTS TO DESTROY SEGA BECAUSE THEY NEVER PUT HIM IN A GAME FOR 99999999999999999999 YEARS.
KNOOKELZ KAYAWTX
Edit
THIS WAS THE LAST GAME THAT MIGHTEE APPEARED IN BEFORE HE GOT VAPORIZED. HE CAME BACK TO LIFE THOUGH.
SOONICK DA HEGHOOG
Edit
MIGHTEE HATES SOONICK BECAUSE HE IS THE MAIN CHARACTER OF THE SERIES AND NO ONE REMEMBERS HIM(MIGHTEE) ANYMORE.
Community content is available under
CC-BY-SA
unless otherwise noted.