WHY I AM MAEKING THIS
I SAW HIM ON THE STUFFZLANDIA PAGE. HE ALSO WAS IN BACK AT THE BARNYARD.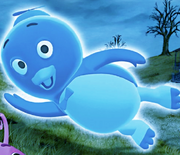 WHY PABLO EXISTS
ONE DAY THERE WAS A HORSE NAMED PABLO WHO LIVED ON A FARM AND HATED HIS LIFE. HE WALKED IN A RAINBOW AND HE TURNED INTO A UNICORN AND GOT A RAINBOW HORN.
PABLOS SPELLS
FIRE INFERNO
DISCHARGE
CUTIE HUG
ZACK THE MEDIEVAL CHICKEN SUMMON
SOONICK SUMMON
DESTROY EARTH
DESTROY THE UNIVERSE
SELF DESTRUCT
ADD MORE SPELLS HERE!
A THING ABOUT PABLO
HE BEAT CHUCK NORRIS IN A FIGHT.
TWO THINGS ABOUT PABLO
HE ATE HIMSELF ONCE. THE SONG ABOUT HIM GOES "IM PABLO THE HAPPY UNICORN I GOT A GREAT BIG SMILE AND A RAINBOW HORN I FLY AROUND ALL DAY HAVING FUN IM PABLO THE HAPPY UNICORN" AS FROM BACK AT HE BARNYARD.