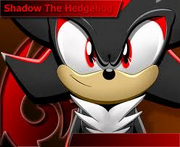 SHADOE IS AN AWESOME CHARACTER WHO ONCE FOUGHT CHUCK NORRIS AND BEAT HIM WITHOUT BREAKING A SWEAT.
MARIO
HIS LOVE WAS A GIRL NAMED MARIO AND THE GOUN SOLDERS KILLED HER. SHE STILL REMAINS IN SHADOE'S HEAD TO THIS DAY BUT SINCE HE'S AWESOME HE NEVER CRIES ABOUT IT.
SOONICK RIVALRY
HE IS SOONICK'S RIVAL AND WILL DO ANYTHING TO KILL HIM. BUT SOONICK WILL NEVER BE KILLED NO MATTER WHAT.
SHADOE DA HEDGEHOOG DA GAM
HE FORCES PEOPLE TO BUY HIS GAME OR ELSE HE WILL HUNT DOWN THE PERSON WHO DIDN'T BUY IT AND SCREAMS LIKE A GIRL.
Community content is available under
CC-BY-SA
unless otherwise noted.